Weiwulian application scenario-digital twin
1. Application scenarios
With the continuous advancement of factory automation and information construction, the deployment and application of various automation systems and information systems have made factory floor management more and more important. On the other hand, due to the large scale of the factory, the scattered deployment of intelligent monitoring equipment, and the lack of a centralized and intuitive visual monitoring and management platform, management personnel cannot understand the on-site production situation and workflow in real time, comprehensively and accurately.
Based on the above problems, digital twin technology can carry out three-dimensional modeling of the entire production workshop, production equipment, monitoring equipment, etc., and realize the transformation of digitization and monitoring visualization from a physical workshop to a three-dimensional virtual workshop. At the same time, the equipment operating status and parameters are collected, and they are automatically and uniformly summarized to the system platform to realize real-time synchronous monitoring of the real operating conditions of the workshop equipment.
2. Target users
Enterprises that need to conduct intelligent monitoring and visual management of the production situation of the factory floor and the operating status of production equipment. Such as manufacturing, industrial parks.
Three, product introduction
Weiwulian (software). Welink is a device IoT application under the Welink application platform. After the virtual workshop module is bound to the IoT device, through data visualization, it can perform three-dimensional simulation display of management elements such as industrial plants, production lines, equipment, etc., through video monitoring and equipment operation Monitoring and environmental monitoring can realize full data-driven display of equipment operation, real-time monitoring of production process, production environment, equipment operating status, true reproduction of production process and equipment operation process, and effective and accurate equipment improvement, maintenance, and efficiency evaluation Basis for decision-making.
3.1 Product function display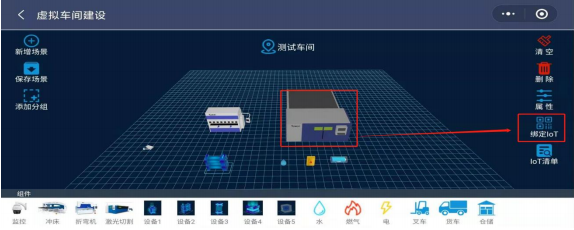 新增场景会新增虚拟车间,在虚拟车间中建模,绑定lot设备,可以将设备的运行状态及能耗情况实时传输展示,绑定流程简单易操作,退出车间前需保存场景。

Create multiple workshops, and different workshops collect the operating data of each equipment, real-time transmission, remote monitoring, and realize industrial visualization. Click on a single device to view the data of a single device.

Click the trace icon on the left to enter the trace mode. In the trace mode, you can switch the trace time by sliding the slider on the lower progress bar or the forward/back icons on the left and right sides of the progress bar. It can be traced forward for up to 8 hours, and 3D scenes, equipment status, energy consumption data, etc. can be viewed at the traced time point.
3.2 Product type and function introduction
name
type
Function
Weiwulian
software
1. Three-dimensional simulation display of management elements such as industrial plants, production lines, Iot equipment, etc.
2. Real-time monitoring of equipment energy consumption, production environment, and equipment operating status
3. Remote monitoring to realize industrial transparency and visualization
4. Timely assessment and early warning of the production environment and personnel safety